According to the calendar, Spring is scheduled to start tomorrow, March 20th! I'm just wondering if Mother Nature got the message, because it's really cold out here in New Hampshire, and there is still over a foot of snow on the ground! I must say, I love boot and sweater season, but I am looking forward to transitioning my wardrobe to Spring!
 I know that not every location's weather goes through mood swings like the Northeast does, but I'm sure there are still a few weeks of back and forth before we feel comfortable dressing lighter and wearing open toed shoes again! Today I want to share with you some of my thoughts on what we can do to make this transition from Winter to Spring a little easier, while keeping us stylish. Some trends will linger from Winter, but there are a few new ones as well that look like they are planning to stay through the Fall!! Here's to the start of longer days and much more sunshine!!
1.) Add pops of on trend Spring colors to your Winter neutrals to get your eyes used to the colors that will be coming your way! Whether you decide to add pops of color through your shoes, bags, shirts, florals, or accessories, you'll be making people smile when they see you coming! Some colors that are trending for Spring this year are yellows, pinks, oranges, and lavender. Being carried over from Winter are neutrals and pastels. Switching out your Winter purse to a Spring color will certainly put a spring in your step!! Speaking of steps, a good place to add color is in your shoes! Jackets and accessories can help to brighten our looks, while being functional for the temperamental weather this time of year.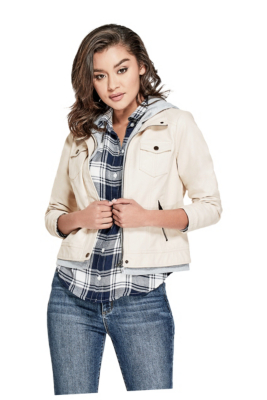 2.) Layers are a must have when you work in an office, or work outside, but never more important than when you are traveling between seasons. The day might start out a cold 30 degrees and then be 65 on your way home! There are tried and true layered outfits that can help you move through the day while looking stylish, and on trend. Wearing a jacket as a layer is a smart idea, and it's even better when your jacket can function in the place of a sweater or another layer that you would wear all day. If you need a thicker coat to brave the outdoors, it's a great time to wear a brightly colored option, like a green trench coat, or a pink peacoat. There are also beautiful colored denim and faux leather jackets for when it warms up, just a bit!
3.) Grungy, floral prints were shown at Fashion Week this year, with the ability to mix Winter and Spring colors, but also be kept for the Fall! Dresses can be layered with a jacket or sweater now, and then be bare armed in a few weeks. Dresses also can look gorgeous with over the knee boots that have been keeping you warm all winter. When it warms up, you can trade those for still on trend ankle booties and peep toe booties. Prints are a great way to add color back into your wardrobe. Even plaid comes in lighter varieties!
4.) If you are reluctant to give up your chunky, cozy sweaters like I am, wear them with Spring  bottoms like flowy skirts, shorts (when appropriate), or even culottes! Chunky sweaters also look cool with lighter wash denim and a fun Spring shoe. Just make sure your pedicure is up to date before you pull out the warm weather shoes! Lighter wash denim will also look good on shirt dresses, chambray shirts, denim jackets, and denim skirts if you dare! One of my favorite looks for cooler nights is a chunky sweater and jean shorts. There is just something so comfortable and nostalgic to me about that combination. It sounds like the perfect walking on the beach date outfit!
5.) One classic trend that I love to use in the Spring, is to pull my Winter clothes together to make nautical and French inspired outfits. The colors are still very Winter-esque and the pieces are warmer, but when weather allows, you can add minor details to pull the outfit into sunshine!
6.) If you have any Winter items that include Spring trends, now is the time to get use out of them. Some Spring trends are; bows, ruffles, polka dots, 80's inspired looks, logo wear, graphic tees, pearls, V cut shoes, tassels, and pastels and neutrals, and the colors yellow, orange, pink and lavender. See what you already have in your closet to brighten up your days!!
Do you have any tips and techniques for transitioning between seasons?
Leave them in a comment below! I'd love to hear from you!
Linking up with: